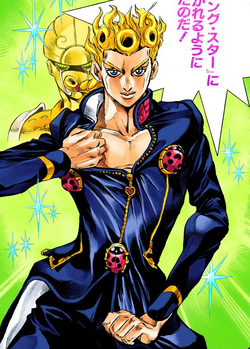 ---
"Better put some sunglasses on if you're gonna look at me, cause I'm too damn bright!~"
---
Name:
Alexander Scintillate
Epithet:
Often referred to as
"Fashion Freak"
, he calls himself
"Golden Star"
Age:
22
Gender:
Male
Race:
Human
Sexuality:
Bisexual
Affiliation:
Revolutionary
Occupation:
= Cook
=
Armorsmith(Alex Style):

Armorsmith - The Armorsmith is the other options of a forger's advancement. They have developed their skills beyond simple crafting, mastering the unbelievably hot fires of their forge, they are capable of developing high-quality armor. Alexander does not only deal with metal but also with other material such as fabric or leather. Alexander has an "eye for fashion", so his armor and clothing tend to catch the eye a bit more than the average armor.

Passive: Armorsmiths are capable of creating armor up to two tiers higher than their own tier. They lose the ability to craft weapons of one tier higher from Forger. (Supplies must be gathered in a task)
---
"Viola!~"
---
Appearance:
Alexander is quite the flashy fellow. He's nearly always the one to stand out from the crowd due to choice of clothing and hairstyle. Working out way from the top, we can see Alex's crazy blonde hair, his hair's direction points skywards and on the front of the hair, he ties it so that there appear to be three circle-like shapes on his hair. The amazing thing is, his hair naturally grows upwards so it requires no jel or spray to keep it into place. Next we have his eyes which are a light blue color and almost always possess a light sparkle. His skin is flawless, meaning he has no visible scars, tattoos or piercing. From his neck downwards, we see Alex's coat, it's collar is always facing up and Alex enjoys to leave the zip of it halfway so that his chest is visible. On this dark blue coat, we see the ladybird-like things stitched on. One on the right, one on the left and the final one located nearer to the bottom of his coat.
Covering his legs are his equally blue trousers, nothing special about these trousers. They are held up by a black belt with a ladybird acting as the buckle of the belt. His trousers reach down to his blue shoes.
Hair Color:
Blonde
Eye Color:
Light Blue
Skin Tone:
A tanned color
Height:
5 foot 9
Weight:
 155 lbs
Tattoo:
N/A
Personality:
Alexander has a spring in his step. Walking like he's a king and talking like he's a diva. Alexander is full of energy and is up for almost anything reasonable. He enjoys loud and rowdy areas just as much as enjoys looking at himself in a mirror. Alex can get a bit too playful at times and may get out of hand, but he knows his limits so he won't get too crazy.. I hope. Alex is fun to be around and he's the type of guy who can brighten up dark atmospheres. He's attracted to both males and females and can be rather straight to the point.
Though Alex knows that life is not all fun and games and knows when it's time to switch on. He finds pleasure in poking fun at the crazy situations he gets himself into and he's sarcasm's number one fan. Many people tell Alexander to "open his eyes" and pull his head out of the clouds but he's the type who'll close them and continue to dream on.
Likes:
+ Jokes: The funny type
+ Mirrors: Seeing a picture of him always turns him on
+ Optimism: Being optimistic is a great trait of his and enjoys showing it
Dislikes:
- Mud: They get all over his fab shoes
- Dicks who think they're cool: People who show off more than he does, basically
- Forgetting to comb his hair: It's a daily thing, he needs to do it and he gets annoyed when he forgets
Motivations:
+ Art: Seeing art develop and stretch out of it's bounds motivates Alex
+ The sky: It covers the whole world and looks amazing whilst doing so
+ Food: The different flavors excites his taste buds
Fears:
- Forgetting to comb his hair: As people get older, they're memory begins to get weaker aswell. He fears that one day he'll forget to comb his hair for a week, he wants to comb it everyday, even if he ends up with no hair one day!
Inner Lineage:
Eye of the Needle: The Scintillare family possess great vision and can generally see with more detail and a little more far than the average human
Outer Lineage:
Mental File


Last edited by Scintillare on Thu Feb 12, 2015 1:35 pm; edited 2 times in total