Name:
Chen Toketsu
Epithet:
'The bloody diamond
Age:
17
Gender:
male
Race:
Fae
Sexuality:
Bisexual
Affiliation:
Pirate
Occupation:
Weaponsmith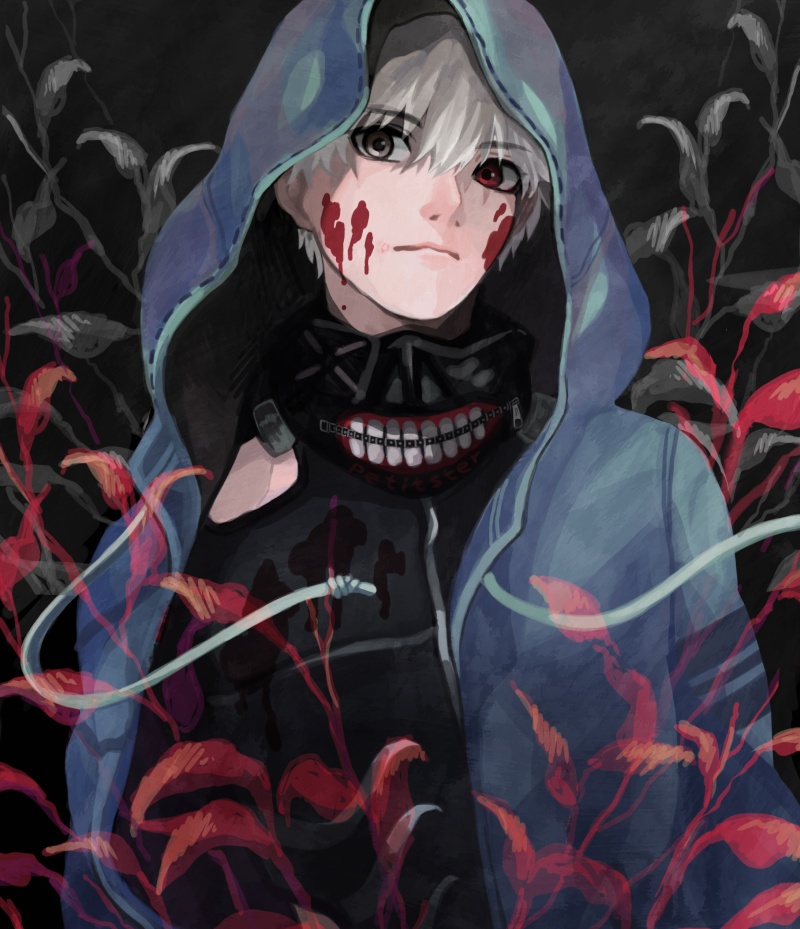 Appearance:
a boy of about 5'10 with snowy white hair that matches his complexion has 1 eye that flickers from its usual color to a eerie red and black, often wears a white suit shirt under a black button up vest with black suit pants and black leather shoes sometimes has a pocket watch hanging inside his shirt pocket connected to his vest. when in battle he will don a black Kevlar gimp mask with 1 eye covered up so he can focus.
Hair Color:
White
Eye Color:
misty grey/red(sometimes)
Skin Tone:
pale
Height:
5'10
Weight:
147.7
Tattoo:
located right across his shoulder blades in murky black ink
Personality:
inside combat: Chen is a much better fighter than he first appears to be. The problem is that he automatically holds back due to his immense strength and reflexes that gives him a great edge over most punks. After all, he would kill them if he didn't. His friend had to smack him around quite a bit before he finally got rid of that mental block. Chen has been in more street fights than he can recall. It tends to happen when a guy is a) very hot tempered with a good heart b) the target of ridicule from his less unfortunate peers and c) has a fearsome reputation that tends to draw idiots in like flies to a rotting carcass who want to prove they are somehow "better" than him. The real trick though, is that he hasn't lost one since he was seven.
outside battle: Chen loves romance stories. Despite the fact most people would see him (in the rare times he is still) reading an action, comedy or fantasy/scifi manga, there is a better chance for him to actually be reading a romance, just hidden by a fake cover. On the off chance that he cracks a book outside of school, it's likely to be romance as well. The truth about the fake covers isn't that Chen  is ashamed; as a matter of fact, Chen  doesn't get the problem people have with a guy reading such books. However, punks have a tendency to use such things as a starter for fights
Likes:
1. sake because it helps him to relax while working
2. working because it takes his mind off of the rest of the world
3. romance novels because his was never properly educated on what romance is so he tries to educate himself.
Dislikes:
1. cats because they always pick on birds for no reason
2. interruption while working this pee's him off as he loses his concentration when he gets interrupted.
3. shortbread cookies he just dislikes the texture and the aftertaste it leaves in his mouth.
Motivations:
Chens ultimate goal is to track down the user of the Tochi Tochi no mi and face them in a battle to the death
Fears:
1. losing his mind set Chen is strong because of his mind set and if he loses that he loses his strength.
2. hospitals Chen has many unpleasant memories of hospitals.
3. intimacy because most human contact in his life involved physical pain.
Inner Lineage:
Name:
Tori gengo gakusha (Avian linguist)
Description
in ancient times existed a special clan among the Fae with the ability to speak to birds and communicate things to and from them they were called the Tori tōkā (Avian talkers) sacred among the Fae were they and now thought to be extinct rumors of those with the abilities of the Tori tōkā have arisen once again into this world.
Ability:
Tori gengo gakusha gives you the ability to talk to avian animals for 2 posts
Outer Lineage:
Name: Mental File
Description: There are people in this world that most others consider to have a
"photographic memory", or that are believed to be unable to forget anything. Some of this is true, and some of this is because of the few people in the world that possess this lineage. The Mental File is a lineage that allows the user to create a physical interface that they are able to interact with. This interface holds everything the user knows, put down in letters, numbers, and words. However, there is one other concept that this lineage allows; The creation of protective walls that every user of this lineage has called a "Firewall". These walls are capable of completely negating an attack before vanishing.
Ability Usage: The user is capable of bringing up a energy based, circular screen, along with a keyboard made of the same energy. This screen and keyboard act as a database of all information known to the character, presented in whatever fashion makes it easiest for them to understand. They are also able to create Walls of Light known as "firewalls" Twice per topic, with a ten post cooldown in between each. These firewalls can only stop one attack of equal or lower tier than the user (Exempting T5 and Higher attacks, which shatter the firewall).
Writing Sample
Applying for the Kuri Kuri no Mi (Crystal-Crystal Fruit)
Chen sat on the edge of a pier contemplating his thoughts when a sudden ruckus arose a short distance away 'hmmm seems interesting' he jumped up off of his feet and jogged over in that direction. When he arrived at the scene he was horrified blood ran down the walls and torn flesh lay in small bloody piles all over the street and standing in the middle of it was a spindly man holding a severed head that had been stripped of both flesh and skin the man appeared to be chewing on something 'man this guy is messed up' Chen silently reached into his back pocket and fetched out a gold coin about the size of his thumb and wrapped his hand around it before shouting at the man "oi Hannibal was this your doing" the man paused mid chew before swallowing and looked at Chen with a delightful grin before nodding Mhmmm this was alllllllll me" He crushed the skull in his hand as he seemed angry for some reason alarm bells were ringing in Chens head and so he slipped on his mask with coin in hand and began to concentrate. Chen dashed forward as to catch the man off guard he opened his palm mid step and flick the coin at the man who dodged to the right Chen however anticipated this and covered his right leg before coming down on his left leg and swing his right leg straight at the mans sternum driving the breath out of him Chen followed up with a right hook from his fist covered in a silvery sheen the other man crashed into the wall but immediately righted himself 'man this guy is persistant' thought chen picking up the coin from the ground the man once again lunged at him but chen just smiled and when he smiled he made sure to turn his teeth into diamonds he aimed his teeth a little upwards and the light from the sun bounced off of his teeth and right into the mans eyes blinding him leaving room for Chen to punch him right in the face with another diamond covered fist the mans neck snapped to the side and with a small gurgle he fell dead "light refraction is awesome"color] Chen strolled off on his merry way.


Last edited by Bloodypolarbear on Thu Jan 29, 2015 6:57 pm; edited 1 time in total