Name: Eizan
Epithet: Decided through IC
Age: 23
Gender: Male


Race: Human
Sexuality: Straight

Affiliation: Revolutionary
Occupation: Bounty Hunter/Cook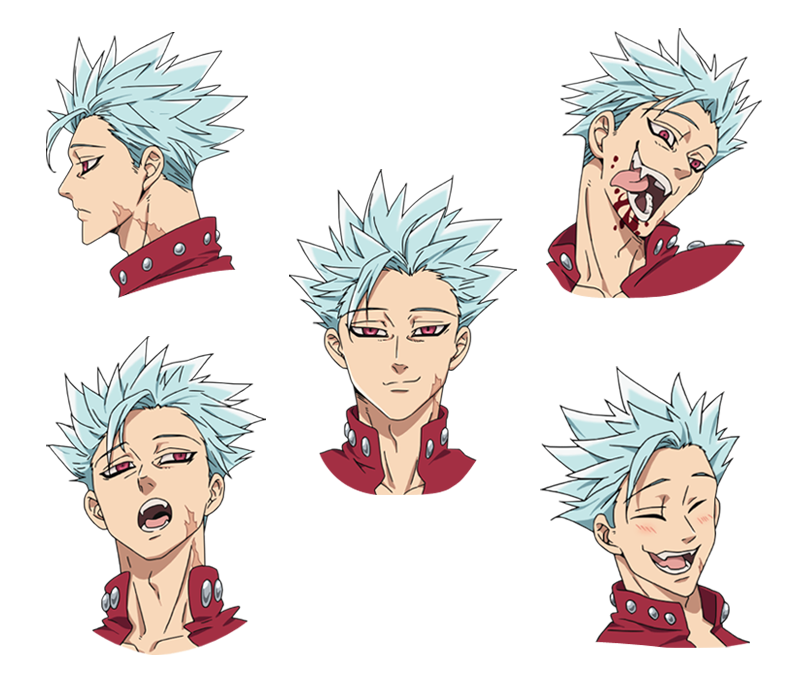 Appearance: Eizan always wears red trousers with sown metal studs in it, if not also wearing a same style vest and red shoes. He prefers to walk around topless, however.
Hair Color: White
Eye Color: Red
Skin Tone: Pale
Height: 206cm (6'9" feet)
Weight: 77kg (170lbs)
Tattoo: He has a tattoo of a fox above his waist on the left side of his body. He also has a distinctive scar, on the left side of his body too next to his throat and a little up his face.

Personality: Eizan is a weird kind of guy, with a devil-may-care  and lax attitude. He is selfish, narcissistic and doesn't care about anyone. He however, is determined in doing stuff, chasing things he cares about as long as they happen to cross his mind, which most of the time are random things. He likes to hum songs he lately heard, when there is nothing else to do. Being a revolutionary, Eizan holds high respect for the leader but close to none to any other superiors, whether they are 2nd in rank or only just a letter away from Eizan (as in B-rank and A-rank for example).

Most of the time, Eizan is the joker. He'll always be the one that gets people to laugh, whether he wants them to do or not. He agrees with anyone that tells him he is a bad person, and will just laugh it out. He is known to both despise it, and to love it, being a bad person. He is shown to be quickly surprised and easily made enthusiastic about stuff. He also has some pretty thick brains, as he is pretty smart despite people's impression of him being dumbfound.
Likes: Fighting, laughing, drinking, joking, sleeping
Dislikes: Effects of drinking too much, horrible music, simple composed music, people that are naïve, people with ugly tattoo's
Motivations: Being feared, either through respect or through immense power by everyone in the world, and with that, doing what he wants
Fears: Dying, nightmares, single-colored cows

Inner Lineage:
Eizan has the ability to communicate with snakes and is able to make them obey him.
Outer Lineage:
Name: Fortune Finder
Description: These people through out time had an eye for finding the rarest of riches and treasures. Obtaining wealth was second nature to these people, as they always seem to find ways to get better rewards & payments for their work.
Ability: Unlike, most outer lineages that have direct use in combat. This lineage is one of the few that doesn't instead it allows the user to gain riches more quickly than others. Anyone with this lineage earns 50% more Beli for Beli rewards.

Writing Sample
Eizan, as lax as always, was lying down on a chair that leaned against a wooden wall. He was located on an unknown island that has recently been taken over by the revolutionaries, but since yesterday, the marines already started trying to take back control. That's why they had send Eizan. The user of the Saisei Saisei no Mi (Regen-Regen Fruit), also known as someone immortal. The village where Eizan was located on the unknown island, was now being raided by the marines to take down every revolutionary inside. Eizan was woken up by a sword stabbed through his stomach. It almost looked like his eyes poured out of their chambers, as he woke up in a scream. However, that scream turned into laughter as Eizan pulled out the sword while the one who stuck it between his abs had already fleed the scene, thinking Eizan was dead. He stood up and the wound was gone. He had healed it with his Paramecia-type devil fruit, and now started to look for the one that had awoken him from his deep sleep. He took a heavy breath through his nose and exhaled shortly after through his mouth, all in one big blow. He held the bloody sword in his right hand and threw it forward, as a marine ran not far from him from left to right through his perspective. The sword hit the marine in the shoulder, who had dropped his weapon, a rifle, by the shock and sudden pain. Eizan walked over to him and pulled the sword out, before kicking him to lay on his back. He then let the sword hang above his throat. ''Hey, who is the owner of this sword?'' Eizan asked, with an evil smirk on his face.



Last edited by Eizan on Fri Jan 30, 2015 2:45 pm; edited 1 time in total