Name:
Phorcys (Phor-kus) or P for those who cant say
Epithet:
To be determined via ic actions.
Age:
19
Gender:
Male
Race:
Barracuda Fishman
Sexuality:
Heterosexual
Affiliation:
Pirates
Occupation:
Sea Master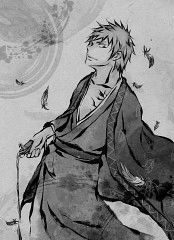 Appearance:
Phorcys doesn't need much material wise and prefers to go barefoot so the only clothes he owns are a black pair of shorts and a vest that is similar in color to the sun which falls just a bit too short to cover the gills in-between his neck and shoulder. His eyes are a dark shade of red almost the same as crimson, and his wild, short, spiky orange hair is almost the same color as the sun as well. Now as for his body, its a bit different from the norm his back and outside of his arms, legs, etc is a darker blue color and the inside/front of his body is a light bluish gray color. It is rather obvious that he is a fishman and he doesn't care to hide the mouth full of sharp teeth, the more claw like finger nails, or the long fin that starts at the boot of his neck and ends a little below his butt.
Hair Color:
Orange
Eye Color:
Red
Skin Tone:
Dark blue on the back/outside, Light bluish gray on the front/inside.
Height:
7'4"
Weight:
230 lbs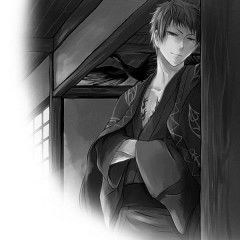 Personality:
P isn't a fishman who just hates everyone and everything. Most of his relationships however seem to be based off of hate, the hatred for racism and those who condone it. Ever since he was a young child Phorcys was forced to learn of the cruel ways and nearly thrown into slavery many times. One thing he can't stand is someone who captures or purchases a slave as well as a fishman who's actions who work against his hopes of equality.
He isn't exactly the quickest to act, but he is known to stand up for the things he believe are true and just. Fighting doesn't happen to always fall under those standards...sometimes you just have to make an exception. Phorcys really isn't that quick at all to be honest, I mean don't get me wrong hes still a smart guy he just takes a moment or two to get fired up sometimes and prefers to not talk a lot unless its really needed. He has always thought actions speak louder than words.
Anyone who is willing to help Phorcys achieve what he needs to do will become just like family to him. He has no problems with helping out other people as long as they don't hinder him with his own endeavors. A life of piracy is what he was forced into...to achieve his dreams is what he has to embrace.
Likes:


Money; It makes the world revolve on its axis, it allows people to purchase things they want. Also with a large bounty on his head Phorcys will become known to the world and maybe his actions will have a larger impact.

Water; A fish just can't live without it, almost his whole life he has been in or using the water. He trained at a young age in ways that allow him to turn water into a strong power.

Tolerance; People that are more accepting are Phorcys' favorite type of people. Hes spending all of his time trying to make people more tolerant and abolish slavery.

Dislikes:


Racism; Theres no point in treating others like they're worthless and some like they're gods. Nothing else can piss him off as much as a someone who is racist.

Humans; Not all of them, but a lot. They always seem to think like they're better than others and P doesn't mind putting them in their place every now and then.

Lightning; Its the enemy of water and ever since he was a little kid he just couldn't find a way to not dislike it.

Motivations:


Unity; One day P wouldn't mind uniting all of the fishman under one common banner.

Racism; P has strong hopes to end racism towards fishman and really show the humans how advanced they are.

Fears:


Slavery; P wouldn't know how to handle himself if he got taken and sold as a slave to some worthless sack of crap.

Fishman killing each other; Its pretty simple, some fishman think differently than others and he would hate to see them fight over their beliefs.

Inner Lineage:
Fishman Physiology; Due to the merging of genetics a fishman is typically more physically superior than the common human. Not only their larger frame and muscles, but their more fish like attributes such as cartilage and fins allow them to access higher speeds and strength than known to man. +1 tier to speed and strength.


Last edited by Phorcys on Wed Jan 28, 2015 3:26 pm; edited 14 times in total