Equipment Name:
Stygian Sniper Rifle
Tier:
5
Type:
Semi-Automatic Sniper Rifle + [90 Sea-Stone Bullets]   | Weapon
Equipment Significance:
Long Range Combat
Description:
A highly advanced sniper rifle that Kalliope paid for herself off the black market. The Semi-Automatic Sniper rifle currently has a max range range of  230 Meters (Equal to long range attacks at Tier 5). The weapon can hold up to 90 rounds in its magazine  holder. Due to the tier of the weapon, the weapon comes equipped with .50 Caliber sea stone bullets. f
Strengths:
-Can fire off rounds at extremely long ranges.
Weaknesses:
-Not as useful to use in close range combat/ Melee Combat
-When using the Stygian Sniper Rifle, she can't use any other firearms.
Equipment Name:
Grenades  
Tier:
3
Type:
Grenades | Explosives (15)
Equipment Significance:
Combat
Description:
The Standard grenades that Kalliope uses, people have comment on how they look like a green. The grenades have a small AOE of 2 meters.
Strengths:
-AOE Weapon. Can harm multiple targets at the same time.
Weaknesses:
-Fire Friendly. Anyone who is caught in the blast radius of the grenade(s) can get hurt even Kalliope herself.
Equipment Name:
Amber's Kiss
Tier:
3
Type:
Firearm | Flintlock Pistol [+60 Lead Bullets]
Equipment Significance:
Business Deals | Combat | Pride
Description: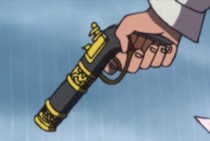 Kalliope main side arm, Amber's Kiss. This modify Flintlock pistol is single-barreled, obsidian black pistol with luxurious gold plating. Kalliope generally loads it with lead bullets to inflict lead poisoning to her opponents. Kalliope is able to fire off seven shots before she has to reload the gun. It may not be as advanced as her firearms but this is still a good weapon to use when her back she forced into corner or shootout. In order to inflict lead poisoning onto her opponent, she has to shoot them at least three times with Amber's Kiss. After that opponent will suffer mid side effects like headaches, fatigue stomach pain, nausea and being unable to concentrate. The poisoning last until the opponent gets rid of their lead in their bodies, cure the sickness or until the end of the thread, which ever comes first.
Strengths:
-Able to lead bullets that can poison her opponents.
Weaknesses:
-Has max range of 10 meters, after that the bullet(s) won't be able to harm her foes.
-No Silencer, so her shots can alert others to her position
-Curable posion