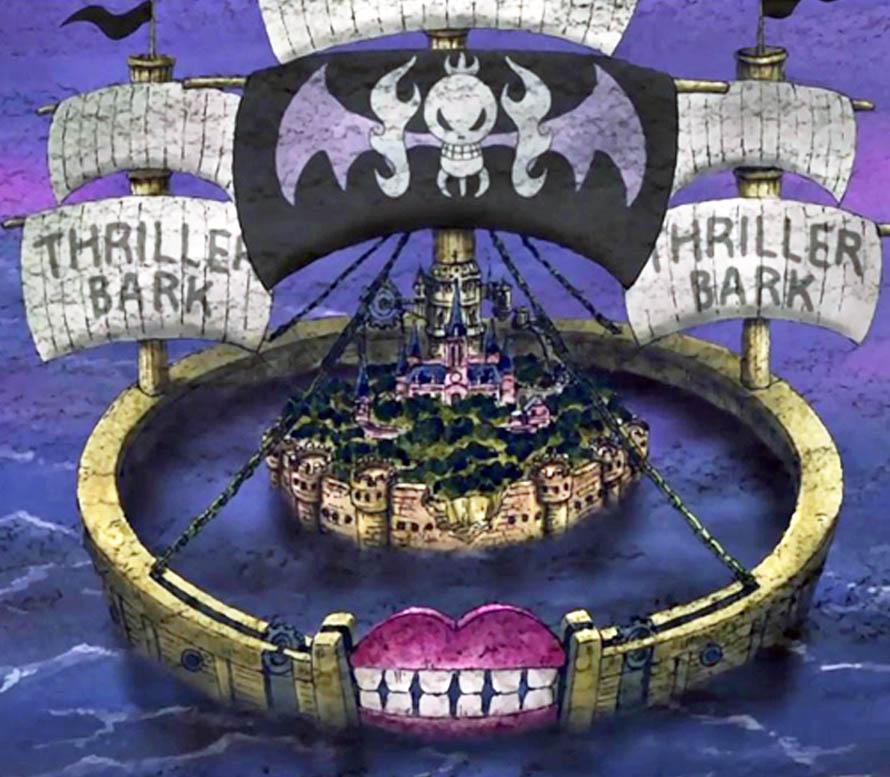 Thriller Bark is a giant, deserted ship/island located in the West Blue. The island is surrounded by a huge outer wall that goes around the ship, with a gate resembling a giant mouth that opens and closes. There are four separate chains that connect from the wall to the mast above the mansion. The island has an old broken inner stone wall encircling it with towers and a moat. There is a mansion in the middle of the island, surrounded by an apparently dead forest. The entire ship somewhat resembles the stereotypical scenery in vampire or horror movies, such as Dracula or Frankenstein.
Dead Forest-
The forest covers most of the island, and is inhabited by zombies, ghouls, and ghosts.
Thriller Bark Graveyard-
A graveyard beyond the forest. Most, if not all, of the graves there are occupied by hidden zombies created by unknown means. These zombies will attack intruders, but are not particularly strong.
Thriller Bark Mansion-
A huge mansion that resembles a gothic-style cathedral. A select amount of unknown creatures roam the halls of both the Thriller Bark Mansion, and the Mast Mansion.
Mast Mansion-
The large tower in the middle of Thriller Bark is actually the mast of the ship, as well as a mansion. There is a gigantic freezer stored within.
The entire island is surrounded by a thick, putrid fog that dials visibility down to nothing. Many mysteries, folk tales, and stories have been made about Thriller Bark, all springing from the fact that ships, both Marine, Revolutionary, and Pirate alike seen heading towards Thriller Bark's vicinity have vanished without a trace.